Dawn Scarfe
Listening Glasses
Installation with glass sculptures
This sculptural installation invites people to use acoustic glasses to discover musical tones in the sound of their environment. Listening Glasses are hollow spheres with a funnel on one side (inserted into the ear) and an opening on the other. Each glass is calibrated to a particular musical tone. If this tone sounds in the surrounding air, the glass resonates and amplifies it.
John Roach
The BQEar
Outdoor Installation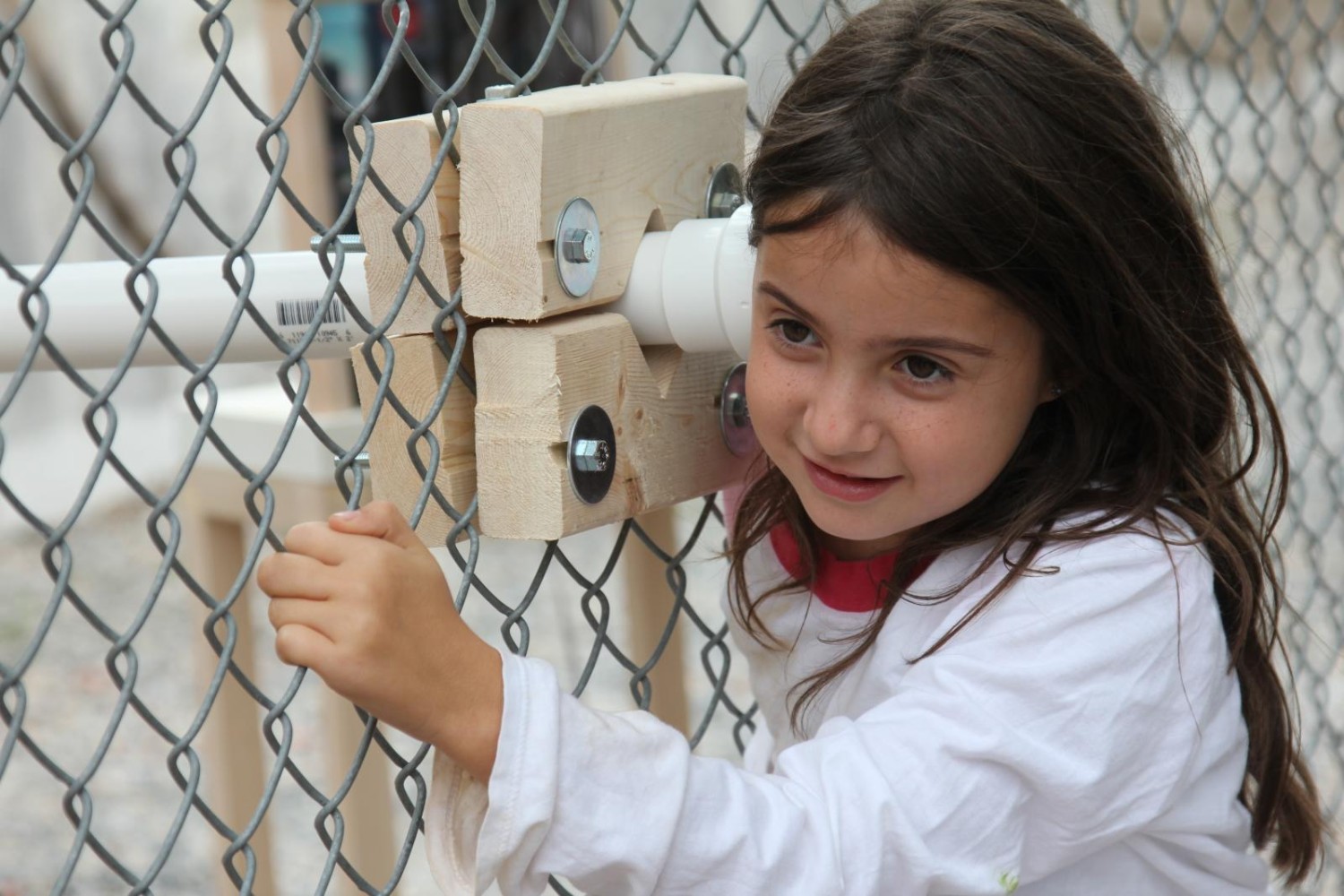 The BQEar is an enormous trumpet-like horn perched atop the fence of the outdoor sculpture venue The Art Lot in Red Hook, Brooklyn as part of a group exhibition in September 2010.
The horn points southeast towards the Brooklyn Queens Expressway and patiently listens to the neighborhood. Of course the BQEar is only a colossal wood funnel snaking through the lot until someone decides to place his or her ear to the small end that pokes out from the metal fence. The BQEar is an invitation to passersby to listen to the neighborhood in a different way. The object (looking not unlike the delicately curving shape of an antique gramophone horn) draws in the sound of Red Hook through its body and, because of its acoustic properties, transforms it into a new and compact soundscape
– More info images and video here
Spencer Finch
MY OWN PERSONAL SETI
Cardboard, Aluminum foil, Duct tape, and Mixed media.
A giant ear trumpet for listening to the sound of the stars.
"My Own Personal SETI (2001), is an inversion of his usual process. Instead of providing us a translation of a temporal subjective remembered experience of light, time, and atmosphere in a historical moment, Finch gives us a seat in which to imagine ourselves searching for extraterrestrial intelligence. But we are not the scientists of the SETI project; instead we are living-room seekers, descendents of ET, Orwell's Mars invasion, and Mork and Mindy. The possible sound or vision of alien communication is conspicuously absent; all that is left is the place we might occupy in searching for the invisible."