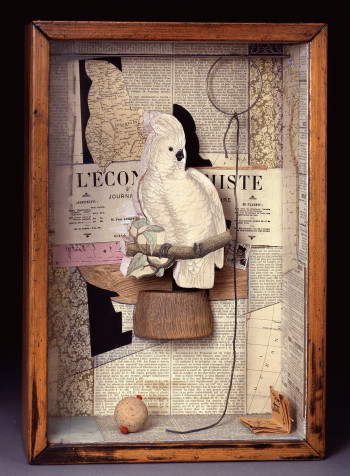 Image source: https://www.royalacademy.org.uk/exhibition/joseph-cornell
What is the main inspiration behind the works of "The Man at the Café" by Juan Gris and why is it so special?
The collage "The Man at the Café" is so special and prominent because it is Gris' largest collage and it is the only one that features a human figure. The main inspiration for this collage is through the fictional criminal mastermind Fantômas, a character that is famous in serial novels and quiet films. His inspiration is seen when Gris presented a suspicious character by humorously hiding his face under a fedora, and the fedora has cast an ominous shadow. Gris also attempted to trick one eye's with wood-grain paneling of the café interior, and this is inspired in Fantômas' first serial appearance in Le Matin when a newspaper article reads "One will no longer be able to make fake works of art".
Why is the representation of a great white crested cockatoo bird so important to Joseph Cornell?
There is never a direct answer from Cornell regarding this representation. However, it is said that it could potentially be a private reference to one singer in particular named Maria Malibran. Maria Malibran is a Spanish 19th century Spanish Opera diva who died young, similarly to Bris, who is Spanish and died young. Also, Maria was often called a songbird and Cornell often listens to her while making these artworks, and therefore that could've made an influence on him. Another reason being Cornell has always been someone who adores birds, and as the cockatoo is white, it is also a great way to incorporate contrast into his works.
What was so special about Joseph Cornell's shadow boxes?
Unlike using things that we can usually see, Cornell made boxes about things that are hidden to the human eye and that is ideas, memories, fantasies, and dreams. The shadow boxes also provide an illusion of an invite into Cornell's own private world. The boxes were also inspired by real-life art performances, for example, he saw Houdini perform in New York City and he was inspired by the idea of the story and has incorporated that into his own artworks. One of the things that are so unique about his artwork was that he has built the mini pieces inside his artwork with home unused treasures like postcards, magazines, records, early films, shells and rubber balls etc.
Please List 5 questions (about Cornell, Gris, Museums, Shadow Boxes, Cabinet of Curiosities)
How did Joseph Cornell get into Art?
Joseph Cornell was definitely a relative latecomer to art in comparison to other artists. His father died when he was 13 years old and this death took a toll on him as he was given adult opportunities and was obliged to work. While working, he was collecting memorabilia and starting visiting galleries which gave him the idea of collage. Therefore, he would start making art and piecing things together from an array of old illustrated books.
As the "Cabinet of Curiosities" has evoked the power of curiosity within the viewers, what are some ways we could recreate a "Cabinet of Curiosities"?
Tsar Peter, a man from Russia, has created the cabinets of curiosities by placing odd things like. Bones, stones, weapons, and more that travelers find while returning home and place them in a mason jar. Another artist, Maissa Toulet, keeps her 'worlds' encased in class, or in cabinets and it appears to be more two-dimensional in comparison to Joseph Cornell's three-dimensional works.
How did Joseph Cornell get inspired by Christian Science?
Christian science tends to depict a state of ideal harmony where there are perfect health and harmony with the universe. It could be depicted as more real than the material illusion of daily life. I feel that Cornell has incorporated the idea of Christian Science through his signature art form, shadow box. As his box is infused with dream-like aura, it provides an inviting vibe into his private world where each and every item in it evokes a specific harmonic memory, and also the things that he likes.
How is Joseph Cornell different from the other artists in World War 2?
Joseph Cornell has always been a loner when he was younger. In World War II, many European artists were in exile and Cornell was a different artist that was somewhat connected yet separate, interested but skeptical. Thus, unlike other European artists that go to cafe society to strengthen friendships, he chose to be isolated. His different experience has led to him creating his boxes that mainly evoke conscious memories, as he admires the beauty of a commonplace.
How did Juan Gris inspire Joseph Cornell?
At least fifteen boxes and several collages have been inspired by Juan Gris. For example, in one of the boxes, Cornell has shown a response to Gris's unique type of Cubist college and this is apparent when the white cockatoo often appearing in Gris' series is absent with only the outline. The outline is echoed by a black paper shadow that appears to be more geometric than the outline. The play between representation and reality is very central to Cubism and there appears to be a form of abstraction. Cornell also uses French newspaper to cover the inside of the box and use the process of painting and pasting over the newspaper and this artistic style is very similar to Gris's.
What are some of other Juan Gris's artwork?
Juan Gris's first ever artwork is published in 1912 and it is called the Portrait of Picasso. As Picasso is his mentor, he has painted a portrait of him to commemorate the fact that he is the founder of Cubism. With Picasso taking most of the space on the canvas, Gris has split his face into a prism of planes and geometric shapes that resolve into parallel lines in the background, which had made the picture seem to be in motion.
Who started the Cabinet of Curiosities?
Cabinets of curiosities are started by the anatomist Frederick Ruysch in 1710, where he would usually include displayed body parts, preserved organs and exotic birds. He would also place cuffs and collars onto dead arms and necks and the skeletons would always be positioned in a way that it appears to be crying into handkerchiefs.
Why did Joseph Cornell name his cabinets "Cabinet of Curiosities?"
As Joseph Cornell has never travelled abroad, his work stems purely from his imagination, and therefore he uses his fascination with other countries to create a cabinet. Some of his work features maps of starts and the sea and sky seen through a window behind a wire cage, and he would peel back the wire to show his desire to go travelling, and therefore this has prompted him to name his cabinets the "Cabinet of Curiosities".
Why did Joseph Cornell decide to use boxes to represent his work?
This thought first occurred to Cornell during his city jaunts in the 1930s after he saw a display of compasses in a shop window. He thought about compasses and boxes on his way home on the train and has decided to put them together. Compasses were just one of the items that Cornell collected to create ideas, places and people captured inside his shadow box.
How did Joseph Cornell get inspired in his visits to the museum?
On October 21, 1953, Joseph Cornell visited Sidney Janis Gallery in New York as there was an exhibition of modern art. He was fascinated by one specific work, The Man at the Cafe by the artist Juan Gris. Cornell was impressed by its mysteriousness, and described the image as "a man covered almost completely by his reading matter". Thus, he created his largest series dedicated to one artist, with the recurring theme of an image of a white-crested cockatoo, based on an engraving from William Thomas Greene's Parrots in Captivity.
Which museums exhibits Joseph Cornell's artwork on view?
The Museum of Modern Art in New York and San Francisco Museum of Modern Art.
What are some of the other versions of Cabinet of Curiosities?
In the olden days, the cabinet of curiosities are usually made by natural, manmade or artificial objects, and contemporary artists re-envision the concepts behind Cabinet of Curiosity by offering a dynamic variety of paintings, photographs, and sculptures, each with a reflection of a collectable object. American contemporary artist Sue Johnson has presented "Cabinet of Curiosities" as a series of gouache and watercolour paintings of dynamic, imagined shelving units filled with artworks and invented objects.
Which museum has showcased Cornell's shadow box?
Cornell's was given a retrospective at the Guggenheim Museum in New York in 1967. However, the first museum show of Cornell's work is held in England since 1981 and the first ever in Austria. It is an exhibition with 80-odd works in various media that share the theme of imaginary travel. The show will also include over 20 collages in addition to the glass-fronted shadow boxes.