NEW YORK, United States — It is no longer a secret that quite a lot of fashion bloggers buy fake followers. Realize it or not, so many other things about a social influencer can be faked, too.
In the world that most of the people would not bother to look closely, faking facial appearance, body image, show's invitations, and even social status and recognition get easier and easier for bloggers.
A friend of my friend said it was her dream to one day attend fashion shows and fashion week. To someone who has never been to one, fashion shows may seem unreachable. However, getting into one is a lot easier than you think.
It is not that difficult to sneak in or to sit at the front row (especially in NYFW, the non-haute couture shows). Just like Amy Odell, who wrote Tales from the back row: an outsiders view from inside the fashion industry. When She firstly started as a fashion blogger for NYmag.com, she was nobody and was assigned to the back row.
However, just like it is easy to sit in the front row, especially when the show is about to start and the front row is still not full, fashion icons such as Anna Wintour and Rachel Zoe are not that unreachable.
Still, when it's not their day, chances are bloggers tried and flexed and still failed to sneak in. In this case they would usually wander around the venue the get "street style photo" snapped by street style photographers or the photographers that they bring. That's why quite a lot of bloggers, and even smaller celebrities, who are not invited to the fashion shows, have photos of them "attending" them. And this happens every fashion week.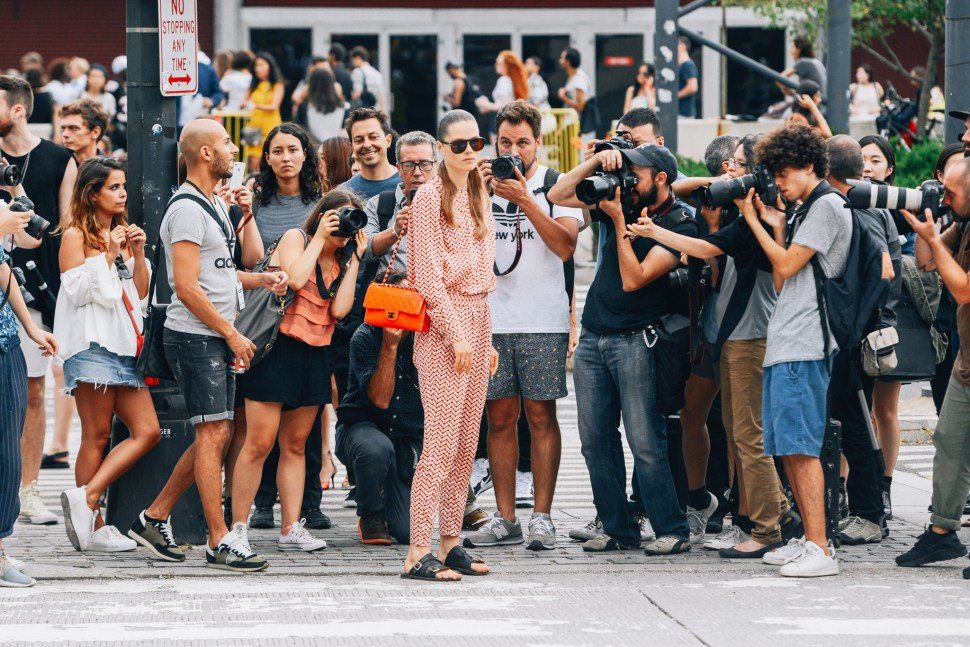 Bloggers' posts of their street style photos and of the fashion shows make people think they get invited to the show, and are well recognized and liked by fashion, and usually luxury brands.
Now things have to do with data and the digital world are even easier to fake. While faking to get invited is surprisingly common, everything you see online – a blogger's followers, comments, amount of reads of their posts, and even the amount of clicks on their links can be fake.
Example of a suspicious follower growth chart
While top fashion media like Business of Fashion, or Vogue, only have 10 to 200 shares of each post, some bloggers easily gain hundreds or thousands of shares and comments under their posts.
And you think the fashion brands are unaware of this?
Sometimes even the people who work for fashion brands help bloggers fake the data. Bloggers want money, they want to get their job done, and their bosses want pretty data. It looks like a win-win.
Think about it – are we living in The Truman Show?
by Dolly Yun
March 26, 2018 10:07