Your ten key artifacts should be supported by a reflective comment, or 'caption' of between 500 and 750 words.  This should include:
Description – clearly situating the item in its curricular context, and indicating its genre and purpose.
Rationale – the reasons you have chosen this item, insofar as it is relevant to the overall goals of the program, as well as to your own personal (professional/ developmental) goals; how it might make connections across the program; and how it might connect theory and practice.
Evaluation – your assessment of the extent to which the item shows evidence of your development, including (where appropriate) feedback from instructors/ colleagues.
Outcomes – how the evidence has affected personal and/or collective learning and what implications it has for future learning.
The caption should be attached to the artifact using the Comment window.
Creating and Using Categories
When you upload a new artifact you need to assign it a category. On the right side of the new post window, you will find a box where you can select the relevant course category.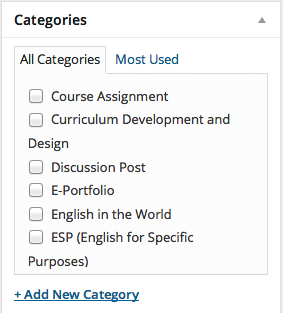 Currently, the Courses menu contains a link to each of the courses that might be taken by a MA TESOL student at The New School. Because you will not be taking all these courses, you should remove those courses from the Courses menu and delete the corresponding categories.
Instructions for adding or removing menu items can be found here.
General instructions for working with categories and tags can be found here.
Finally, once you have learned to do all of this, you should remove this page from the Courses menu.