I'm studying how Hurricane Sandy affected the people of Red Hook in order to find out what the inhabitants of Red Hook consider "home" so that my reader better understands the community of Red Hook.
How do people build a "home" for themselves after tragedy or displacement?

How can natural disasters affect social infrastructure and can they bring a community closer together?
The pictures presented below serve as a collection of items that investigate the omission of emotion regarding the storm.
"During the evening of Oct. 29, 2012, most of Red Hook flooded, including this stretch of Dwight Street. Nearly six feet of water completely submerged some cars and electricity went out (Photo by Alan Chin)" (https://thebridgebk.com/red-hook-after-sandy-flourishing-but-vulnerable/)
2. "In the aftermath of Sandy, Red Hook residents were served meals at the Red Hook Initiative community center (Photo by Radhika Chalasani/Redux)" (https://thebridgebk.com/red-hook-after-sandy-flourishing-but-vulnerable/)
3. "National Guard members delivered supplies at the Red Hook Houses, which had no power or water for weeks after the storm (Photo by Kirsten Luce/The New York Times/Redux)" (https://thebridgebk.com/red-hook-after-sandy-flourishing-but-vulnerable/)
4. Red Hook Sandy Surge Map (http://portsidenewyork.org/portsidetanke/2013/02/red-hook-sandy-surge-map.html)
5.  "The piers of Red Hook were greatly damaged by the storm surge. Source: Michael Fleshman via Flickr Creative Commons" (https://streeteasy.com/blog/hurricane-sandy-nyc-five-years-later-city-builds-where-floods-hit-hardest/)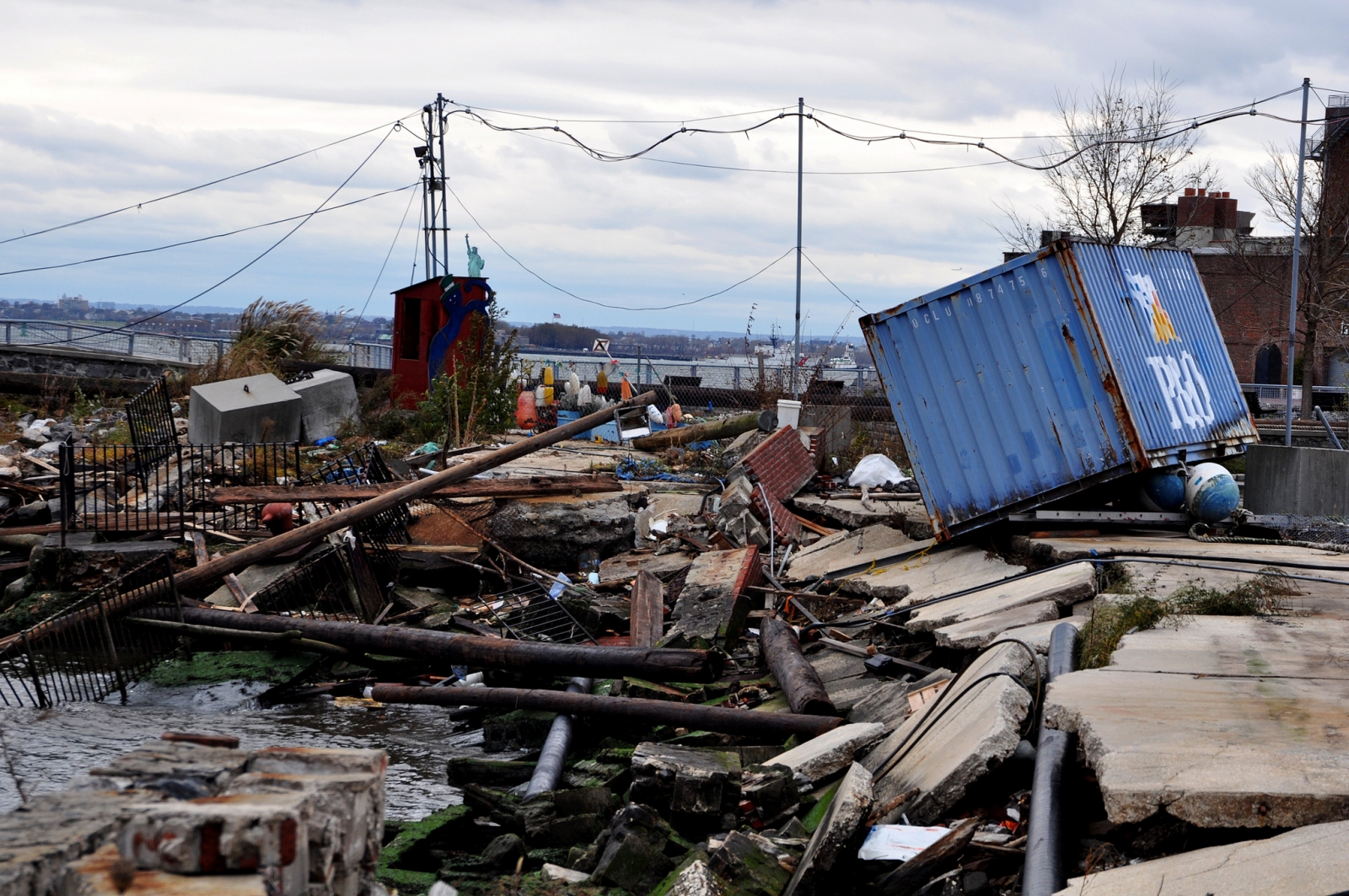 6. Response to Sandy: Art Installation 
"WATERSHED Red Hook, as the installation is named, is the work of Brooklyn-based artist Anita Glesta and relies on a large-scale video installation to transform the sidewalk in front of the Brooklyn Public Library's Red Hook branch into a "virtual seascape." Essentially the installation will consist of projected images and texts about water on the pavement, with hopes that it will educate and provoke vital conversations on the action that is needed to protect neighborhoods like Red Hook from future storms."
(https://ny.curbed.com/2017/10/17/16490816/red-hook-art-installation-watershed-anita-glesta-hurricane-sandy-anniversary-climate-change) (http://current.nyfa.org/post/166255911193/event-artw-global-commemorates-the-fifth)
7. WATERSHED Installation at Red Hook Public Library (https://www.metropolismag.com/cities/hurricane-sandy-five-year-anniversary/)
8. Red Hook Public WiFi Expansion
"The Red Hook WiFi, which launched in 2012 and kept residents connected after Hurricane Sandy, will add 48 new hotspots at local businesses."
(https://patch.com/new-york/gowanus/red-hook-public-wi-fi-nearly-triple-service-1m-expansion) 
9+10. "First 'Solar for Sandy' Back-Up Photovoltaic Panel Installation Goes Up at Red Hook Recreation Center"
(https://inhabitat.com/nyc/first-solar-for-sandy-back-up-photovoltaic-panel-installation-goes-up-at-red-hook-recreation-center/)